Probiotic foods & beverages in India : strains and benefits – 1
Natural probioics are present in a variety of predominately dairy based beverages
1st in a series on natural probiotics in Indian food and beverages
Authors from the University of Odisha recently published a chapter in "Probiotic Beverages" entitled   "Probitoic beverages in India : History and current developments"  which provides insight into the strains present in both dairy and non-dairy based probiotic drinks.
Drinks including lassi have predominantly Lactobacillus and Lactococcus as ferments but also depend on the type of milk and preparation techniques.
Non-dairy probiotic drinks made from grains, fruits, legumes and vegetables have also gained popularity due to  health concerns for cholesterol or lactose intolerance, with Lactobacillus being the predominant strain. Ethnic beverages are also highlighted, including unique products like rice beer (Lactobacillus, Saccharomyces cerevisiae and Bifidobacterium) and haria (Bifidobacterium, Pediococcus and Lactobacillus).
In 2019, a Rakuten Insight survey found that a majority of Indians consumed functional beverages (i.e. probiotic beverages) several times a week and 15% consumed once daily. The functional or fortified food market in India in 2018 was USD 3.9 billion and is forecast to reach USD 6 billion by 2023.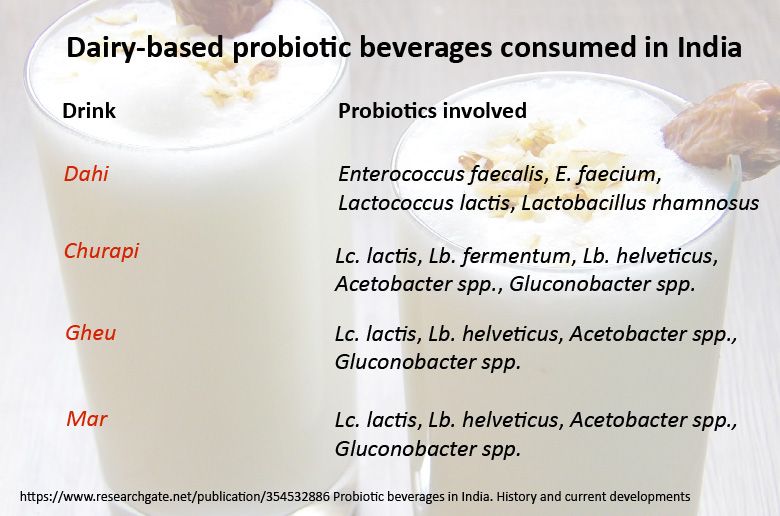 Probiotic beverages may benefit from some form of religious certification to expand accessible markets ; the growth of the probiotic must then be assured in Kosher or Halal-certified fermentation media. Solabia is strategically placed for the supply of Halal and Kosher–certified peptones in this context.